A light and refreshing cucumber salad is the perfect antidote to a humid summer day. Cucumbers are salted and crisped, then combined with a tangy, garlicky, protein-rich Greek yogurt vinaigrette.
This creamy cucumber salad is the ideal side dish to serve with peppery dishes, such as salmon or chicken marinated in harissa. The cooling nature of cucumber, fresh herbs, and yogurt balances the intensity of any main course.
I love crunchy, vegetable-heavy salads with robust flavors, lettuce optional. This velvety cucumber salad is comparable to our Fattoush or Cucumber Radish Salad! Imagine everything you adore about Tzatziki transformed into a salad.
I've seen many creamy cucumber salad recipes that simply combine all the ingredients, but I take a few extra steps to ensure that the cucumbers remain crisp—a must, in my opinion!
The salad is topped with a garlicky Greek yogurt dressing that has the tang of buttermilk and the creaminess of mayonnaise, but maintains a healthful, light profile. The best aspect is that it can be assembled in about twenty minutes.
Creamy Cucumber Salad Recipe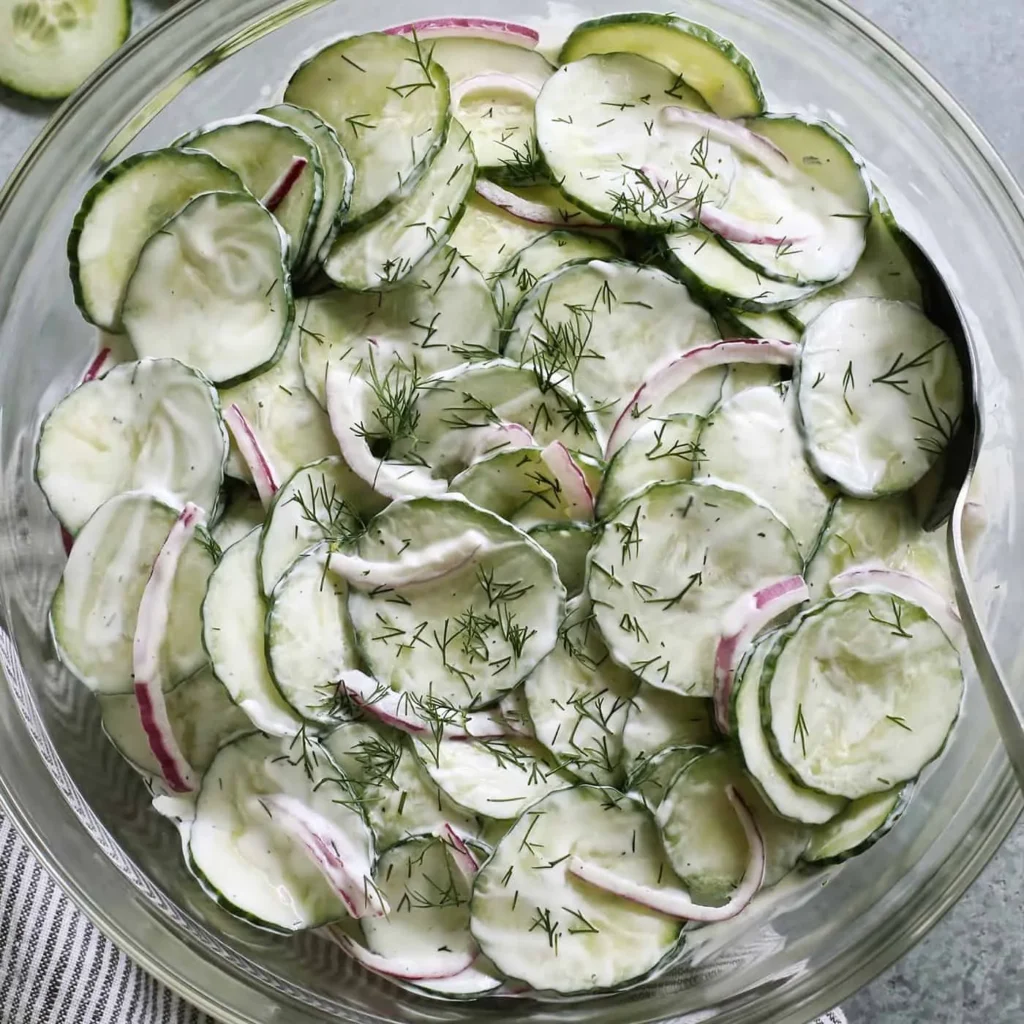 Ingredients for creamy cucumber salad including cucumbers, salt, greek yogurt, red wine vinegar, lemon zest, lemon juice, fresh dill, garlic powder, pepper and sliced red onion.
Creamy Cucumber Salad Ingredients
This simple salad uses just a few easy-to-find ingredients. To get started, grab:
Cucumbers: English cucumbers are best here as they are sweeter and have thinner skin. If you need to use regular garden cucumbers, be sure to peel the waxy skin completely and do not skip removing the seeds. Smaller Persian cucumbers will work too.
Seasonings: Since this salad has raw onion, I season the yogurt with garlic powder instead of raw garlic. If you want to substitute with fresh garlic, grate or mince 1 small clove (or more to taste). Fresh dill makes this creamy cucumber salad super refreshing and light. If you're not a fan of dill, substitute with mint or parsley (or a combination). Kosher salt and black pepper enhance the other flavors.
Brightness: Lemon zest and juice and red wine vinegar add brightness to make this salad extra zippy.
Yogurt: Plain, whole milk Greek yogurt is not only a healthy source of vegetarian protein (according to the USDA, there's about 8 grams of protein per ½ cup!). It also has so much flavor. It's creamy and tangy.
Onion: I typically use red onion when I'm serving them raw, as they have a milder bite compared with yellow or white. If you need to substitute, use shallot or green onion.
creamy cucumber salad in a serving bowl with wooden serving utensils next to a bowl of dill.
How to Make Creamy Cucumber Salad
First, I remove the water-retentive seeds from the cucumbers. Then, I sprinkle them with salt and set them aside for 20 minutes to drain and become brittle. Their flavor intensifies and they become pleasantly firm. While the cucumbers are resting, I prepare the vinaigrette, herbs, and additional vegetables. Here's how I do it in less than thirty minutes:
Slice and peel the cucumber. Leave some of the rind on the cucumbers to create a rustic striped pattern. Cut them in half along the length. Use a metal utensil to scrape out and discard the seeds (we only retain the crunchiest portion for optimal texture). Then, slice into quarter-inch thick half moons.

We added salt to the cucumber. Place the cucumbers in a large colander and sprinkle them with a generous amount of salt. Toss well and leave in the sink for 20 minutes while you prepare the other ingredients. In a colander are cucumber segments.

Create the sauce. Obtain a large mixing basin while the cucumbers are crisping. Add three-quarters of a cup of Greek yogurt, two tablespoons of red wine vinegar, and between one-half and three-quarters of a teaspoon of garlic powder, depending on how pungent you like things. First, zest a half lemon, then juice it. Chop 14 cup of fresh dill fronds, discarding any stems that are too dense. Add the minced dill and salt and pepper to taste. Whisk to combine all ingredients. Place in the fridge until the cucumbers are ready. A basin of creamy cucumber salad dressing.

Combining together. Half of a medium red onion should be cut into half moons. When the cucumbers are ready, wipe them dry with a paper towel. Add the cucumbers and onions to the yogurt mixture in the basin and toss until everything is evenly coated with the dressing. Taste the dish and adjust the seasoning as desired. A cucumber salad made with cream in a mixing basin.

To serve. Serve with additional fresh dill garnish.A photograph of a creamy cucumber salad in a serving dish, alongside wooden serving utensils and a bowl of dill, taken from above.
Why Should You Salt Cucumbers?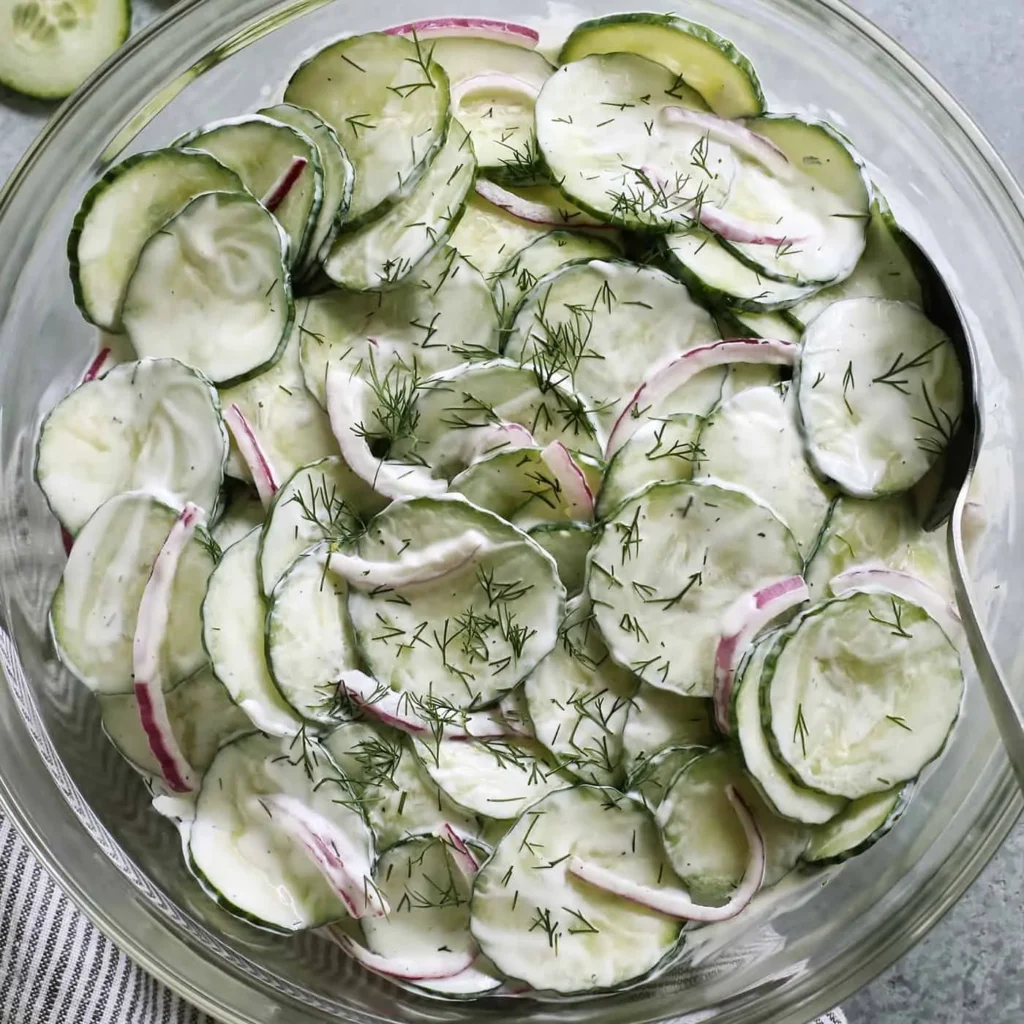 Salting cucumbers may seem like a time-consuming addition to this salad recipe, but it makes a significant difference for three reasons.
Salt makes vegetables crisp and tasty. Cucumbers are extremely hydrating. The water is drawn out by the salt, making the vegetables firmer and imparting an irresistible crunch. Additionally, removing the water prevents the salad from becoming soggy as it rests. No one enjoys a wet salad! The secret to a crisp, crunchy, and delectable cucumber salad is salt.

Salt is the flavor party's host. The natural flavor of cucumbers is enhanced by salting, allowing their delicate, slightly sweet qualities to emerge.

Salt reduces the bitterness of any flavor. Not every cucumber is acrid. But if you get an acrid one, salt will make a significant difference. Imagine taking the cucumber to a retreat; after soaking in a little salt scrub, it emerges slightly sweeter. It's the same method I use for eggplants in dishes like Ratatouille and Roasted Vegetable Salad.
How to Serve Creamy Cucumber Salad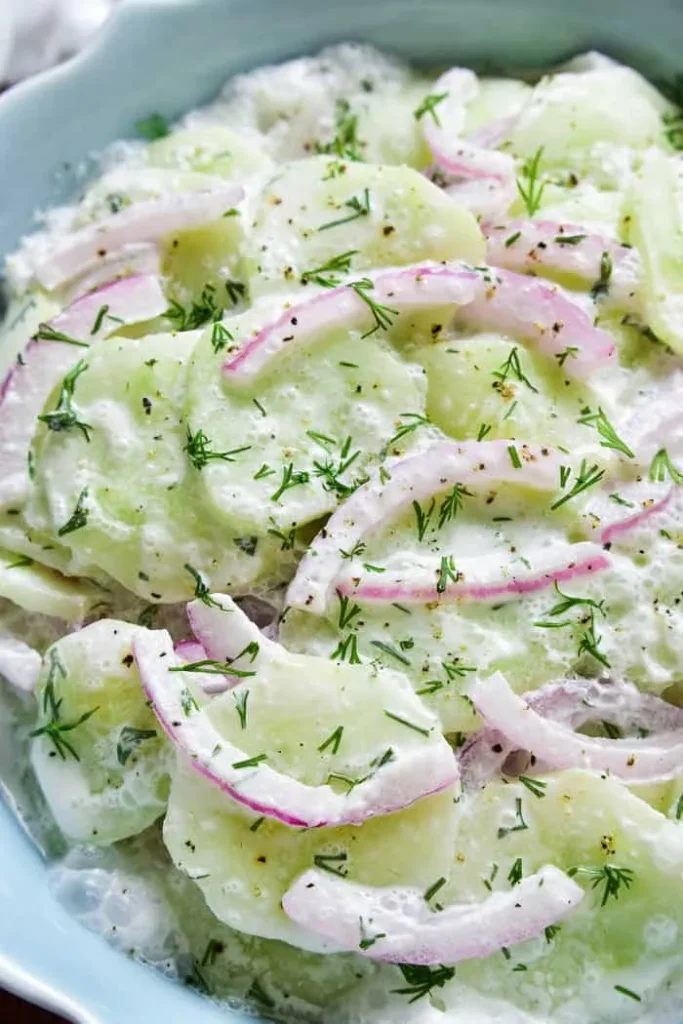 Creamy cucumber salad is a versatile side dish that can be served with almost anything, but I particularly enjoy exploiting its soothing nature.
Serve alongside unabashedly spicy entrees, such as salmon or chicken marinated in harissa, or Shrimp Fra Diavolo with a chili pepper tomato sauce.
Serve alongside Roasted Vegetable Salad with Fried Halloumi for a vegetarian entrée that is filled with vibrant color and crisp-crunchy-smooth texture.
Read Also:- The 12 Healthiest Vegetables for Weight Loss